The Executive Team
Galen D. Young: President
Galen Young has more than 38 years of experience in the site-work and utility construction. His high level of
expertise in the industry has led to the continued growth of Woodford Excavation & Transport Inc., you now see today.
Galen oversees all business operations from construction to financial.
Robert (Ted) E. Thompson: Chief Financial Officer
Ted Thompson brings 38 years of financial management/ customer service to the Woodford Excavation team. He is responsible for the overall management of the accounting department. His duties include bond procurement, short and
long term financial planning for Woodford Excavation. He is a graduate of Transylvania University.
Justin C. Lucas: Vice President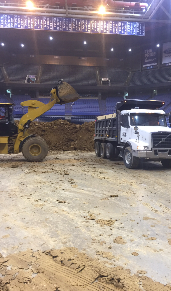 Woodford Excavation and Transport Inc. is a Central Kentucky based business, specializing in site work and utility construction. Our goal is to provide the highest quality craftsmanship in the most cost effective and safest manner possible. Our team of highly qualified individuals have the proper training and experience to ensure projects are on schedule and up to date. With over 38 years' experience serving the Central Kentucky area, Woodford Excavation and Transport Inc., has built a solid reputation verified by exceptional quality, through knowledge, and the invaluable project solutions we have provided our clients.
Over 60 pieces of equipment ranging from Cat 303 to Cat 345 excavators, Cat scrapers, Cat D5 to D8 Dozers, GPS and Laser Operated machines, articulated dump trucks, rubber tire backhoes, tracked loaders, compact track loaders motorgraders, compactors and rollers, and over the road dump trucks and tractor trailers.